First This
I'm back. Sorry I've been absent so long. Pay-the-bills-work on tight deadlines, plus a protracted case of the flu interfered with my best laid plans.
Cory Doctorow
Cory Doctorow describes himself as a science fiction writer and a technology activist. A science fiction writer, says he, "envisions the future" and a technology activist strives to "change the future."
Not all science fiction is future-oriented, but most is, I'd say. Anyway….
Wikipedia says that Cory Doctorow's parents were "Trotskyist teachers" and that he grew up in a Jewish activist household. Jewish activists, also referred to as the Jewish left, are supportive of left-wing, generally liberal causes and policies.
Cory attended a high school called SEED School in Toronto that Wikipedia describes as "…an anarchistic 'free school….'" SEED stands for Shared Experience Exploration and Discovery. As a child, he became involved in the nuclear disarmament movement and Greenpeace.
So…his techno-activism has deep roots. It takes many forms.
For one, Cory is a "copyfighter." Word Spy, www.wordspy.com says that's "A person who opposes copyright laws and practices that he or she perceives to be unfair."
He artfully explains his position regarding that (and other things) in a series of short columns written for Locus Online:
http://www.locusmag.com/Features/2008/11/cory-doctorow-why-i-copyfight.html
Here's another illuminating article:
http://www.publishersweekly.com/pw/by-topic/columns-and-blogs/cory-doctorow/article/49728-cory-doctorow-copyrights-vs-human-rights.html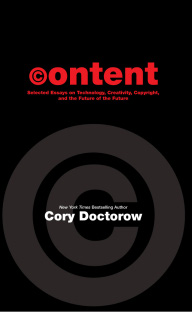 Cory's book, CONTENT – Selected Essays on Technology, Creativity, Copyright and the Future of the Future, which includes some of the material available at the links above and much more, can be found here:
CONTENT – PDF DownloadCONTENT on Amazon
Here's how Wikipedia sums it up: "Doctorow believes that copyright laws should be liberalized to allow for free sharing of all digital media. He has also advocated filesharing."
Cory Doctorow Is Full of Potato Soup and Monkeys
That's what my Grandma Elsie would have said. She was English, born in 1888, brought to the United States as a toddler. She said things like that. She had an adage or saying for every occasion. She never once picked up a pair of scissors without saying, "They'll open and shut but they won't cut but they're better than none at all." Or, when someone made a curious choice, "To each his own said the man as he kissed the cow." Not that she understood copyright all that well, but Grandma Elsie believed that: "Right is right, and wrong belongs to no man." I am sure she would have sided with the law, just about any law, copyright or otherwise. If the law says you can't copy something, then you can't copy it, and that's that.
Cory Doctorow Is Probably Mostly Right
Being slightly, and only slightly more web-savvy than Grandma Elsie (who died well before the creation of World Wide Web) I would say Cory Doctorow's content manifesto is pretty well founded, though a few of his contentions are (possibly) full of potato soup and monkeys. He makes a few arguable assessments and draws some conclusions I find questionable. Maybe I just don't understand, or he hasn't yet gotten around to explaining some things yet.
He also sets forth a recommendation for creators that seems to be good policy as it applies to him and some others but not as it applies to most of us, especially in the comic book industry.
A few noteworthy items:
Cory points out that flagrant infringement is rampant. People love to share creative works they like. Of the Internet and the personal computer, Cory says: "These two technologies represent a perfect storm for bringing ordinary peoples' ordinary activity into the realm of copyright: every household has the apparatus to commit mass acts of infringement…."
Yep.
Cory describes how it came to this—from a time, not so long ago when making copies of creative works was something that was difficult and expensive, requiring printing presses, record and film duplicating equipment and such, till the VCR, double-deck tape recorder, photocopier and now, oh, my God, the digital age happened along.
Yep.
Cory calls copying and sharing creative works "culture." He says: "Culture's imperative is to share information: culture is shared information."
Yep.
He makes lots of really good points and offers wonderfully thoughtful insights into why novels are novel-length, why being a seller of your own work is a bad idea, how live performance, badly wounded by radio and subsequent technologies, is making a comeback thanks to technology. And more.
You really ought to read the material available at the links above. It's great stuff.
However, I am left with some doubts and some questions. It could be, as I surmised earlier, that Cory simply hasn't gotten around to explaining a few things.
For instance, because people he calls "copyists" are copying like mad anyway in this digital age he advocates simply accepting that. Furthermore, he recommends actively abetting the copyists by giving away digital copies of your work to start the ball rolling. Make your creative works available for free online.
"Think like a dandelion," he says. Think of the free digital copies as dandelion seeds cast into the wind by the thousands from each dandelion plant. Many seeds will be wasted, but some seeds just might find a cozy crack in a sidewalk somewhere and, of course, those dandelions will spread more seeds. Cory thinks spreading free copies around like dandelion seeds will increase sales of physical copies, not undercut them. He likens downloading a free copy of a book to picking up a physical book in a bookstore and taking a look at it—the cover, the blurbs. Some of those look-overs will result in physical book sales. The question is, he says, "Will giving away free e-books win me more sales than it costs me?" Yes, he claims.
One reason he thinks so is that he believes that people in general prefer to read long-form works like novels on printed pages, not screens. He goes so far as to say, "I don't believe that most readers want to read long-form works off a screen, and I don't believe that they will ever (my emphasis) want to read long-form works off a screen."
Cory also makes arguments for the other benefit of scattering dandelion seeds—exposure. Exposure begets equity. Anyone who stops by this site regularly knows that whenever the subject of licensing comes up I speak about equity, Q-Scores, awareness—in another word, exposure. Marvel didn't license Star Wars because we couldn't dream up our own space opera, we licensed it because just about everyone everywhere knew Star Wars. Equity gained by dandelion tactics, says Cory, can lead to offers, speaking engagements and other gigs.
True and groovy.
Genius, in fact. And, clearly, dandelion thinking is a good strategy for Cory Doctorow.
I still have doubts about whether it's good for most creators, or applicable to comic book publishers at all.
Here are a few questions and counterarguments:
Giving digital copies away doesn't obviate piracy. If you can sell hard copies of your work, in spite of the fact that is freely available digitally online, so can the pirates. Maybe better and more profitably than you can.
Once upon a time when I worked at Marvel, at the Bologna Children's Book Fair, I went with our licensing executives to a meeting with a Yugoslavian publisher (it was still Yugoslavia back then).
The Yugoslavian publishing execs ushered us into the private office portion of their stand where there was a small freezer. The freezer was packed full of vodka. They poured all present a tumbler full of vodka. We're talking eight ounces, here, at least. They insisted that before any business could be discussed we must all drink.
It was 9:00 AM.
One of our licensing execs didn't drink. At all. I think her name was Laura. Anyway, she politely declined. The Yugoslavians were adamant. No drink, no meeting.
Laura reluctantly took a sip. Her glass, almost imperceptibly less full, was nonetheless immediately replenished.
As were all other glasses, each and every time a drop was drunk.
After many a toast, to Marvel, to America, to Yugoslavia, to Bologna, to vodka, whatever, we started to talk business.
Hic.
Once he judged us sufficiently lubricated, the Yugoslavian publisher excitedly showed us a printed copy of an album, already on sale, made using EPIC Illustrated material.
"But we haven't started licensing EPIC yet," said I.
"Look!" he said, "Look at the production values!" He was so proud.
The book looked great. I asked him where the @#$%& he got the repro film. He told me they shot their film from a printed copy of EPIC! Rescreened it! Doctored it up! Wasn't it beautiful?!
It looked better than the original.
"Don't worry," he said, "We'll pay. We just couldn't wait for contracts."
Usually pirates aren't so honest. Or skillful, but that often doesn't matter. I have a small collection of knock-off comics from all over the world—South America, the Mideast, India, Viet Nam and elsewhere in Asia…. Most are from pre-World Wide Web days. I suppose that most publishing piracy these days is digital only and the plunder is given away, but I don't doubt that someone somewhere is still printing up hard copy knock-offs to sell. It's easier than ever.
Which brings us to thinking like a dandelion.
The question "Will giving away free e-books win me more sales than it costs me?" is moot, pretty much, with regard to comic books. Even if the publishers choose not to give digital copies away, lots of people are doing it for them. An amazing number of comic books are available free online without authorization from the publisher or anyone else. If comic books are freely and widely available, it doesn't matter how they got that way, they have been de facto dandelioned.
Has being dandelioned helped the sales of the physical versions of the comic books in question? Hard to say, but real-world comic book sales suck, and except for a blip here and there (like the early issues of DC's New 52) sales have been in decline for a long time.
Dark Horse Comics Master and Commander Mike Richardson is a pretty smart and savvy guy. Last time we got together when he was in New York, we spoke about this subject over breakfast at Lindy's. He told me that most Dark Horse comics were already pirated and online free before the physical comics were on sale, and in his opinion, it was killing the business.
In his book CONTENT, Cory mentions that his first book, Down and Out in the Magic Kingdom had been downloaded free 300,000 times and had sold 10,000 physical copies. If I recall correctly, those figures came from an article he wrote in 2004, so surely by now those numbers have climbed. Cory was happy with 10,000 copies sold, and apparently so was his publisher, Tor Books. That's a decent figure. For a book. All text. Black and white except for the cover. Cheap to produce, relatively high priced.
However, for many mainstream, quality-format, full color comic book, 10,000 copies sold would leave you roughly 20,000 copies below breakeven.
If the publisher or the pirates gave away 900,000 digital copies, would you then break even?
Cory's belief that people will never want to read long form works off of a screen is surprising coming from someone so technologically aware who envisions the future for a living. Really? They'll never improve the on-screen reading experience sufficiently to make it competitive with reading printed pages?
Meanwhile, I actually think most comic books look better on a screen than in print. Don't get me wrong, I love my printed copies, but the computer screen makes good coloring look great and bad coloring less murky.
I don't dispute Cory's contentions about exposure and equity. That could be very valuable. If you can afford to run long enough at 20,000 copies under breakeven.
Now, about how Cory's marketing advice applies to most creative people and the comic book business—it doesn't. Or I don't see how. Maybe he'll set me straight….
Giving digital copies of creative works away for free may be a good strategy in some cases, like Cory's, but to make money, you need a physical product, an object for people inspired by your dandelioning to buy. In Cory's case, and in many creators' cases, that means you need a publisher.
Getting a publisher isn't always easy or even possible.
Theodor Seuss Geisel was rejected by 27 publishers before finally, through a friend's intervention, he got his work published. John Grisham was rejected by 28 publishers. J.K. Rowling, 12, and she was accepted only under the condition that she use her initials instead of her name to camouflage the fact that she was a woman, because women writers works allegedly didn't sell as well as men's. It took Siegel and Shuster six years to find a publisher for Superman. Etc.
How do we know the above? Because they eventually succeeded, therefore, their travails became known. What about all the creators who never were able to find a publisher? Don't give me that nonsense about "the good ones all eventually make it." Baloney. Sometimes the exigencies of life interfere with your quest. What if Siegel and Shuster had been in a car crash and died in year five? What if endless failure to convince anyone to take the financial risk required to publish your work wears you down? Is every talented creator so iron-willed that no amount of rejection deters them? What if illness, financial need or some other force majeure hinders you? What if Hurricane Katrina destroyed your home and all your work?
How did Cory find a publisher? Cory's books have been published by Tor Books. Patrick Nielsen Hayden is the Manager of Science Fiction at Tor. Cory describes him thus:
"My editor, a blogger, hacker and guy-in-charge-of-the-largest-sf-line-in-the-world named Patrick Nielsen Hayden…."
Here's how he says it came to pass that Tor became his publisher:
"Patrick and I have a long relationship, starting when I was 18 years old and he kicked in toward a scholarship fund to send me to a writers' workshop, continuing to a fateful lunch in New York in the mid-Nineties when I showed him a bunch of Project Gutenberg texts on my Palm Pilot and inspired him to start licensing Tor's titles for PDAs…to the turn-of-the-millennium when he bought and then published my first novel (he's bought three more since—I really like Patrick!)."
I have no problem with the above. As a person reasonably qualified to make such a judgment, I assure you that Cory Doctorow is an excellent writer. He deserves his publishing success, and probably would have found it anyway, even if he hadn't had a long relationship with the guy in charge of the largest sf line in the world, barring hurricanes, car crashes and such.
The point of all of the above is that as brilliant as he is—and he is brilliant—Cory had fortuitous circumstances that few have, and that sufficient ability doesn't always do the trick. Just as fortune sometimes favors someone like Cory, it sometimes screws over someone else.
And here's another thing: In my experience working in creative fields, 47 years' worth, I have found that most people empowered to buy creative work for commercial use don't have a clue. They're some big shot's brother-in-law, or the guy from accounting who always wanted to work in the editorial department, or they're just plain not terribly sharp. I always say—exaggerating for effect a little…maybe—that 98% of the people who buy creative work have little ability to judge it. They know how to process stuff through and how to evade real responsibility. They know they'll never get fired for hiring Kevin Nowlan or Roger Stern, but they might get fired taking a chance on a new person, like oh, say, you. They can stare at your stuff all day and still have no idea whether or not it's good enough.
Seriously. They can't tell. I used to occasionally give finished art boards of a story to Marvel assistant editors and ask them what they thought of the art. With few exceptions, they'd waffle until they came to the splash page, which I'd deliberately buried in the middle. On the splash were the credits. If the creators were "names," then the assistants said they liked the art. One of those assistants is now a highly placed comic book company creative exec. Be afraid….
Of the remaining two percent, half have good instincts. They know whether your work is good enough or not, but aren't really capable of explaining why, or giving much help about making it better.
The remaining one percent know whether the work is good or not, can tell you exactly why and exactly how to improve it. The rare Archie Goodwin type.
Find one of the top two percent and you have a chance. They might realize that you're good and take a flier. Good luck.
By the way, the degree of difficulty finding a publisher is increasing every year. In his article "Put Not Your Faith in EBook Readers" Cory points this out:
"Book reading is just not a mainstream activity in America. Every study conducted since the turn of the century shows book reading as flat or declining. Reports like the 2004 National Endowment for the Arts "Reading at Risk" is full of depressing nuggets about the ongoing decline in the importance of reading books to pretty much everyone: old people, young people, educated people and dropouts, the affluent and the poor."
Yep.
That would tend to make the 98% of publishing company buyers even more nervous about taking any risks, and the companies themselves inclined to be risk-averse, which means sticking with sure things, not you.
So, no lock on getting a publisher.
Cory does recommend keeping the day job and getting your writing (or other creative product) out there on the web. Good advice, I'd say. Why not? Be seen. Be read. Maybe your work will take off like a Soyuz rocket. He discourages selling your digital (or other?) work yourself, which he finds turns your readers into customers, a very different relationship that places great burdens upon the writer.
He also says this:
"We live at the mercy of publishing entities. From the RIAA to New York publishing, they're nearly the only game in town. Your local indie publisher may produce a nice-looking book, but if you want that book sold in actual bookstores, you need to deal with one of the bigs, a company with a sales force and the relations with the retail channels that make it make it possible to get your books on shelves."
So. Fair enough. If you write prose, if you have a publisher, if you're marginally successful, or as successful as Cory Doctorow, who calls himself a "mid-list writer," or more successful but not quite in the "super-rich" category, that is in the 97th percentile or higher, his advice is probably right on the money.
Part 2 tomorrow. The impending end of the world as we know it. And how we might win after all.
Cory Doctorow's Web Site – CraphoundBoingBoing – A Blog Cory Doctorow co-edits
Cory Doctorow on Amazon
TOMORROW: Creative Commons, DRM, SOPA and the Fate That Awaits Us